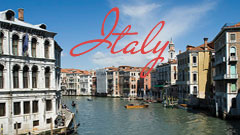 Join Torah in Motion for a unique and intellectually inspiring trip to Italy designed by Dr. Marc Shapiro.

We'll be visiting Rome, Tuscany, Pitigliano, Florence, Pisa, Ferrara, and Venice. This trip promises to be an unforgettable Italian experience, with a focus on places of Jewish interest. A central feature of the tour will be Dr. Shapiro's expert discussions of the many places we will visit, making the trip nothing less than a travelling classroom. In addition, we will be joined by expert local guides who will provide their own angle. Before departure, Dr. Shapiro will send participants an educational packet that will be used on the trip.
And of course, in addition to the special Torah in Motion educational and spiritual nourishment, the Journey Through Jewish History in Italy will feature:
• luxury hotels in prime locations;
• strictly kosher food; and
• expert local tour guides for sites of general interest.
To see our flyer, click here.
Click on these other Torah in Motion 2015 trips for more information:
This tour will not be visiting any churches.
Please do not make independent travel arrangements until all details of this trip are finalized. The current itineraries are subject to change.
Itinerary (subject to change):
Monday, July 6: Departure to Italy
Departure on your flight to Rome.
Tuesday, July 7: Arrival in Rome
Arrival in Rome airport, followed by transfer to the hotel. Begin sightseeing (from the hotel) at 1 PM in the former ghetto area of Rome. Rome is the oldest Jewish community in the Diaspora, and its ghetto remained longer than anywhere else in Europe. As part of our tour, we will see the Jewish Museum, the Great Synagogue, and the Trastevere, where there is evidence of the medieval Jewish community. We will also visit the Campo Di Fiori where, on Rosh Ha-Shanah 1553, the Talmud was burned. In the evening, enjoy a welcome dinner. ****Hotel Ponte Sisto.
Wednesday, July 8: Rome
Breakfast. This morning begins with a visit to the Arch of Titus and its famous Menorah which, as we will learn, does not correspond to other ancient descriptions. We will then visit the Colosseum, with its legacy of horrors and bravery as slaves fought for their lives to the roars of spectators cheering and booing. This massive structure was actually built with slaves brutally seized after putting down the Jewish Revolt in Eretz Yisrael. Continue to the ruins of the Roman Forum, an international center filled with great palaces and all the pomp that we connect with names like Caesar, Nero and Cicero. Later, drive to the Spanish Steps and soon find yourself in the romantic setting of the glorious Trevi Fountain, beloved spot for many great films made in "Roma." After lunch, enjoy the afternoon at leisure to explore Rome on your own or join an optional tour of the Vatican Museum. In the evening, meet for dinner. ****Hotel Ponte Sisto.
"Marc has been such an inspiration to us all. We couldn't have had a more interesting, knowledgable guide. He has so much to share, relating one aspect of Yiddishkeit as we may know it now to other, historical practices, and taking us to walk in the steps of our Sages--including Galileo. Thank you for this tremendous opportunity."
"Kudos to Marc – he made the trip a truly memorable and enjoyable experience."
- Steve and Mali Schwartz
"Thanks to Torah in Motion, we were able to view Italy from two perspectives. Marc taught us Jewish-Italian history, taking us to fascinating places few tourists get to see. Native Italian guides showed us the iconic sites of Rome, Florence and Venice. This made the tour a wonderful, educational experience."