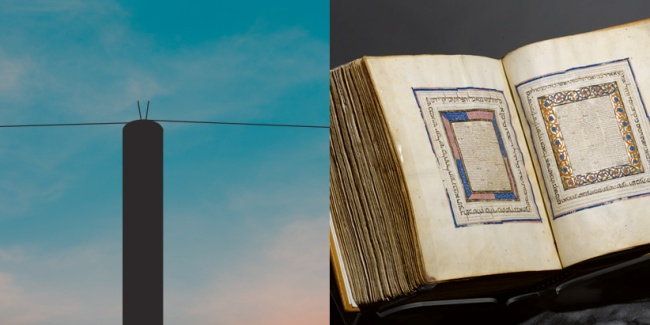 Saturday Night Double Feature
Please join us Saturday night December 2, at Or Chaim Minyan for a double feature:
7:00pm:
Judaica Treasures at Sotheby's: Highlights of  Recently Discovered Illuminated Hebrew manuscripts, Magnificent Textiles and Rare Printed Books, with Sharon Liberman Mintz
8:00pm:
The History of the Toronto Eruv, with Rabbi Adam Mintz 
Sharon Liberman Mintz is the Curator of Jewish Art at the Library of The Jewish Theological Seminary and specializes in the fields of Illuminated Hebrew manuscripts and rare printed books. As ​the Senior​ Consultant ​for Judaica at​ Sotheby's since 1995, Ms. Mintz has cataloged and appraised Hebrew books for Judaica sales worldwide for over two decades.
Rabbi Adam Mintz completed his rabbinical ordination at Yeshiva University and received his doctorate at New York University. The topic of his dissertation was "Halakhah in America: The History of City Eruvin, 1894-1962." He has served as a rabbi in a number of Modern Orthodox synagogues in the New York area, including Congregation Kehilath Jeshurun and Lincoln Square Synagogue. Rabbi Mintz is also a founder of Kehilat Rayim Ahuvim, a Modern Orthodox synagogue in Manhattan.
$10 in advance, $18 at the door. Register here.
TiM Pass holders and students, free. Purchase a TiMPass here.
Rabbi Mintz will also be speaking on Shabbat at the Or Chaim Minyan:
When Did Coca Cola Become Kosher: The History of Kashrut in America (after kiddush)
Translations of the Talmud: From the Septuagint to Schottenstein (at Seudah Shlesheet)
Your support is greatly appreciated. Please donate here. 
Featured speakers
(Click on a speaker to see their other classes.)