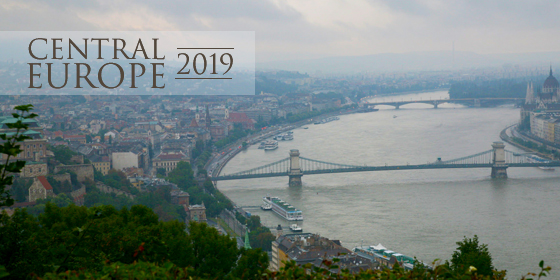 Visit Budapest, Vienna, Prague, Bratislava (Pressburg), Eisenstadt, Sopron and many other sites off the beaten track.

A central feature of the tour will be Dr. Shapiro's expert discussions of the many places we will visit

An unforgettable experience with a focus on Jewish history

LUXURY HOTELS • EXPERT LOCAL GUIDES • DELICIOUS KOSHER MEALS 
"It was a pleasure traveling with such a pleasant, interesting and impressive group of people. The number was small enough to know each other's names and to form a cohesive group. The trip was truly memorable--very meaningful. We are so glad that we went."
"I thoroughly enjoyed the Torah in Motion trip to Central Europe with Marc Shapiro. The trip exceeded my expectations - and my expectations were very high."
"It is truly a fantastic experience. Marc's attitude, knowledge, and mentschlichkeit...makes the trip something special and unusual."
- Esther and Joseph Schubin
"It was great to meet Marc and he was a fantastic guide. The trip was like a living Seforim blog post (I follow his posts religiously)."
"Marc's depth of knowledge is awesome and his enthusiasm is incomparable. He brought Jewish history alive and introduced us to so many great Jewish scholars!"
"What better advertisement can there be than that we went on the Italy trip, followed up with the Central Europe trip, and are looking forward to going to Spain next year?"
"The trip was outstanding – very, very powerful in so many ways. Marc's leadership, pedagogy, commitment, organization and sensitivity to the needs of different types of people was extraordinary."
"Thanks--it was a fantastic trip!"
- Neal Shanblatt, Santa Monica, California
"Thank you for a wonderful trip."
- Eudice Greenfield, Skokie, Illinois