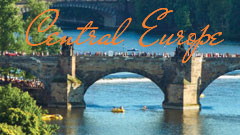 Join Torah in Motion for a unique and intellectually inspiring trip to Central Europe designed especially by Dr. Marc Shapiro.
Visit Budapest, Vienna, Prague, Bratislava (Pressburg), Eisenstadt, Sopron and many other sites off the beaten track. A central feature of the tour will be Dr. Shapiro's expert discussions of the many places we will visit, making the trip nothing less than a travelling classroom. In addition, we will be joined by expert local guides who will provide their own angle. Members of the Jewish communities we visit will also speak to us about life in their countries. Before departure, Dr. Shapiro will send participants an educational packet that will be used on the trip.
In addition to the special Torah in Motion educational and spiritual nourishment, the Journey Through Jewish History in Central Europe will feature:
luxury hotels in prime locations;
strictly kosher food; and
expert local tour guides for sites of general interest.
To see our flyer, click here.
Tax receipts will be issued to the maximum extant allowable by law.
For more information, call 416.633.5770 or send an email to info@torahinmotion.org.
Click on these other Torah in Motion 2014 trips for more information:
Here's what previous participants had to say about their trip:
"The trip was outstanding – very, very powerful in so many ways. Marc's leadership, pedagogy, commitment, organization and sensitivity to the needs of different types of people was extraordinary." --Michael Sone
"What better advertisement can there be than that we went on the Italy trip, followed up with the Central Europe trip, and are looking forward to going to Spain next year?" --Beryl Niewood
"Marc's depth of knowledge is awesome and his enthusiasm is incomparable. He brought Jewish history alive and introduced us to so many great Jewish scholars!" --Eudice Greenfield
"It was great to meet Marc and he was a fantastic guide. The trip was like a living Seforim blog post (I follow his posts religiously)." --Marc Glickman
"It is truly a fantastic experience. Marc's attitude, knowledge, and mentschlichkeit...makes the trip something special and unusual." --Esther and Joseph Schubin
"I thoroughly enjoyed the Torah in Motion trip to Central Europe with Marc Shapiro. The trip exceeded my expectations - and my expectations were very high." --Mel Barenholtz
Tentative itinerary (subject to change):
Thursday, July 17: Depart for Budapest
Friday, July 18: Arrival in Budapest
Transfer from the airport to the hotel. At 1:30 PM, proceed from the hotel on a brief tour of Budapest. We begin with a visit to the Buda Hill. Sit back and enjoy the panoramic vistas of the city as we travel by coach to the Castle area. Stops offer panoramic views of the city and the Danube River below. In Buda, we will also see the synagogue that was used during Turkish rule and stand over the historic synagogue that remains underground. By scenic roads, we will return to the Pest part of the city, returning to the hotel with time to unwind before Mincha/Maariv and Shabbat dinner. Hotel Continental Zara.
Saturday, July 19: Shabbat - Budapest
Breakfast. In the morning, we will attend services at the historic Kazinczy synagogue. Lunch. Following our meal, we will meet with one of the rabbis of Budapest, who will speak to us about Jewish life in the city. Later in the day, we will have a light walking tour in the city. Seudah Shlishit will serve as dinner this day. Hotel Continental Zara.
Sunday, July 20: Budapest
Breakfast. In the morning we will visit the Kazinczy, Rumbach, and Dohany synagogues, and learn about the types of Judaism practiced in Budapest: Orthodox, Status Quo, and Neolog. Afterwards, we will visit the Hungarian Jewish Museum, the actual birthplace site of Theodore Herzl. After lunch, we journey to the Kosma cemetery, one of the most incredible Jewish sights in Budapest. Here we will see the "houses" of the wealthy Budapest families, and visit the graves of some important rabbis, including that of R. Shimon Oppenheimer, famous for proclaiming that the prayers of visitors to his grave will be heard in heaven. Following the cemetery tour, we will visit the moving Holocaust memorial on the Danube and Budapest's Freedom Statue. Following dinner, there will be an optional boat trip down the Danube River. Hotel Continental Zara.
"It was great to meet Marc and he was a fantastic guide. The trip was like a living Seforim blog post (I follow his posts religiously)."
"Thank you for a wonderful trip."
- Eudice Greenfield, Skokie, Illinois
"It was a pleasure traveling with such a pleasant, interesting and impressive group of people. The number was small enough to know each other's names and to form a cohesive group. The trip was truly memorable--very meaningful. We are so glad that we went."