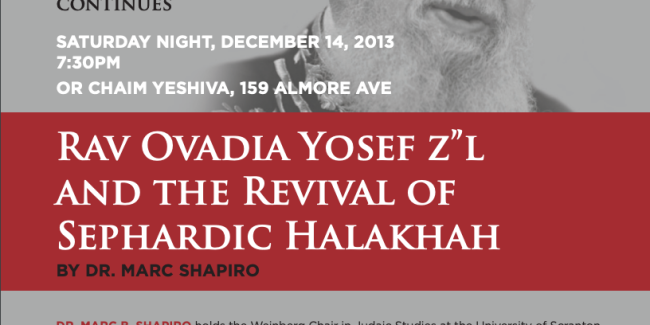 This presentation by Dr. Marc Shapiro continues the Torah in Motion series "The Thought and Worldview of Influential Jewish Thinkers."
Rav Ovadia Yosef, zt"l, was one of the most respected arbiters of Jewish law of this generation, and the spiritual leader of the Shas movement since its inception in the 1980s. His scholarship and deep knowledge of Jewish law gave him unparalleled control over the Shas political party for almost two decades, which changed the landscape of Israeli politics and gave Shas and its Sephardi voters, both haredi and nonreligious, unprecedented influence over the course of events in the country.
He was ordained as a rabbi at the age of 20. Before reaching 30, Rav Yosef was already serving on the rabbinical court of Cairo, where he resided from 1947 to 1950. Upon his return to Israel he became a rabbinical judge – first on the regional court in Petah Tikva and then in Jerusalem. He became Sephardi Chief Rabbi of Tel Aviv in 1968, was awarded the Israel Prize for rabbinic literature in 1970, and in 1972 was elected to the position of Sephardi Chief Rabbi of Israel, also known as the Rishon Lezion – a position he held until 1983.
Following his retirement as chief rabbi, Rav Yosef's influence and power grew immeasurably upon his becoming spiritual head of the Shas movement. Founded in 1982 ahead of municipal elections scheduled for 1983 by haredi Sephardi politicians in Jerusalem, including current MK Nissim Ze'ev, Yosef was made head of a four-man Council of Torah Sages for Shas to provide halachic and spiritual leadership to the new party. Shas took four Knesset seats in the national elections in 1984 and was on its way to gaining power and relevance, both politically and culturally. Shas, established as an explicitly religious political faction, increasingly looked towards Yosef for guidance in all its political activities.
Under Rav Yosef's authority, the party frequently held the balance of power within the governments it had joined, and the weight of its political strength was made apparent by its propensity to create severe political crises in order to secure the implementation of certain policies it had deemed necessary and the failure of others toward which it was hostile. The slogan of "restoring the crown to its glory" became the motto of Shas; it expressed determination to restore pride in Sephardi heritage and identity by raising the population from its low socioeconomic status and addressing inequalities.
Rav Ovadia Yosef passed away on October 7, 2013. His funeral was the largest in Israeli history, with at least 800,000 mourners.